16 December 2022
The course "Flow cytometry for hematologists and immunologists" was the best one that I had attended until now. All presentations were very interesting and useful for my practice. As a beginner, this course with practical training means a lot. I improved my skills in flow cytometry technic, in data analysis through Kaluza; these skills are important for future research projects and for my clinical activity. I will recommend this course for all specialists who would like to learn the basics or to improve their skills in Flow Cytometry.

Viola Popov, MD Ph.D., senior hematologist Colentina Clinical Hospital Bucharest Romania.
28 July 2022
I had the opportunity to take the course "Advanced applications of flow cytometry", this course was really great, well organized and very useful as it was providing all needed and useful information related to flow cytometry application for lymphocyte T cells analyses, ranging from multicolor staining experiments design to lymphocytes T cells populations and intracellular cytokines detections as well. The instructors Dr. Aleksandra Dufour and Prof. Thomas Matthes were very helpful, available, and open to answer all the questions. Besides, this course was set up so that someone with very little time of flow cytometry experience and knowledge could learn a lot in a very a short period. I will look forward to taking more in the future and I really recommend this course.

Hadjer Bellah, PhD candidate, Laboratory of Evolutionary Genetics, University of Neuchâtel, Switzerland.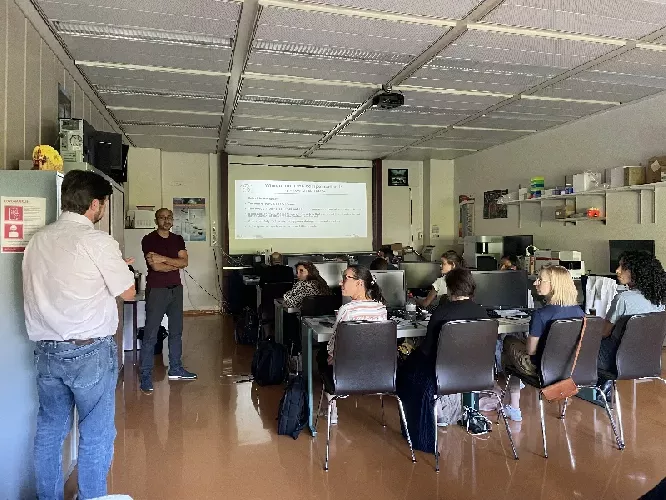 30 June 2022
I took the Advance cytometry course. The subjects discussed, the course structure, and the cytometry wet lab was great. The introduction on using one of the most updated technological instrument and data analysis through Kaluza and Cytobank was very informative. Dr. Aleksandra Dufour and Prof. Thomas Matthes, were very professional and open to answer any of our questions, as well as all the other teachers A. Larbi, M. Kapinsky and Z. Vergara. I found the course very informative and updated, I am very happy to participate and strongly recommend it.

Efthalia Yiannaki PhD, Flow Cytometry Specialist in Haematology Laboratory of Cancer Hospital of Thessaloniki, Greece.
14 December 2021
I decided to participate in the basic course "ONLINE introductory and refresher course in flow cytometry" because I've been approaching the world of flow cytometry for a few months. The course is really well organized. Dr. Aleksandra Dufour has addressed all the main issues in a clear and precise way giving us theoretical and practical information. She gave us homework at the end of each lesson to assess whether we had understood the basic concepts. I am satisfied and I will definitely attend an advanced course in the future.

Giulio Olivieri, MD, Rheumatology Unit, Sapienza University of Rome, Italy
26 November 2021
I had the opportunity to take lessons with Dr. Aleksandra Dufour and Prof. Thomas Matthes, who know everything about Flow Cytometry, at the "Flow Cytometry Course for Biomedical Analysts". I liked to hear them talking about the subject, because they explained everything so well and supported us in every doubt that we had. The course was so well organized. In just 3 days, I had the chance to learn about all basics of Flow Cytometry. I learnt great theoretical content as well as had the chance to do practical work. If someone is looking to learn the basics or improve the skills about Flow Cytometry, the Swiss Flow Cytometry School is the right place to do it.

Lisa Cunha, Vetsuisse Faculty, University of Zurich
24 June 2021
The training "Flow cytometry for hematologists and immunologists" was very informative and satisfying. Lecturers are expert in the field and it was a real pleasure to listen to them. I had an outstanding opportunity to learn how to make diagnostic panels and analyze residual disease.

Izabela Szczuka, PhD, Research Assistant, Department of Biochemistry and Immunochemistry, Wroclaw Medical University, Poland
18 May 2021
I took 4 online cytometry courses. The themes discussed, the course structure, the pdf material and the cytometry homework was great. The teachers, especially Dr. Aleksandra Dufour and Prof. Thomas Matthes, were very professional and open to answer our questions. I am very satisfied with the courses and recommend them strongly.

Prof. Anass Belbachir, Pathologist, Responsible of the Regenerative Medicine Center, Marrakesh, Morocco
5 May 2021
Thank you very much for the outstanding ONLINE Advanced flow cytometry course. It was a pleasure to listen to the thought through talks as well as looking into the provided exercises. It is a great way of learning new things by the combination of theoretical and practical sessions. This is of course more challenging in an online course rather than in a physical training. But this has been achieved with great success and I will warmly recommend this course to my colleagues.

Nathanael Beck, Scientist, Bühlmann Laboratories, Switzerland


23 April 2021
I would like to express my great happiness and thanks to Dr. Aleksandra Dufour and Prof. Thomas Matthes for giving the course "Online advanced applications of flow cytometry". As a medical laboratory scientist, it added to me a lot of knowledge in the field of clinical diagnosis and research. Discussing CAR-T cells and their application in immunotherapy drew my attention to new horizons of research.

Raef Abbadi, Medical Laboratory Scientist, Northern Borders University, Saudi Arabia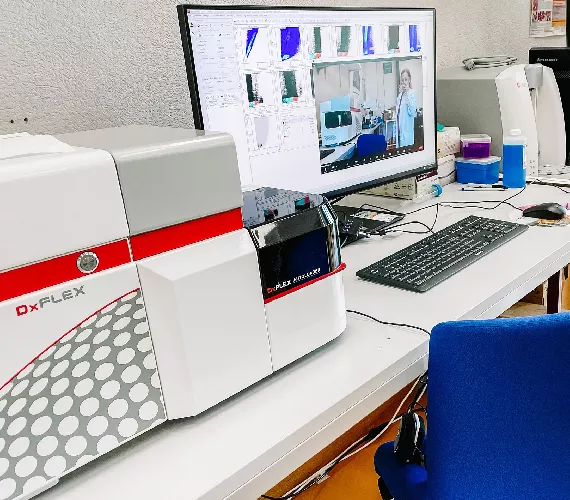 26 February 2021
I would like to express my sincere thanks to the great teacher throughout the course "Online advanced applications of flow cytometry". Being a beginner, I am very inexperience in this field. The course content was packed with both theoretical and practical knowledge. Together with teacher's guidance, it help me to clear up the concepts and solves some technical issue I had encountered. I definitely will recommend this course to my fellows.

Wing Yin Man, Medical Technologist, Hong Kong Children's Hospital
24 January 2021
"Well, in frankly speaking, "ONLINE Leukemia and MRD" course is very effective not only for theoretical but for practical purposes which can be applied in our daily practice. Plus, the way of teaching is very nice, active, straightforward and understandable for us. Giving us homework and lecture files back is also a profitable path from which, we can review and recall our memories concerning with those lectures. One day, I hope to come and attend your lectures in person at your flow cytometry school."

Dr Nay Myo Wai, Pathologist, Children Hospital, Mandalay, Myanmar
17 December 2020
"It was a great idea to sign up for the "ONLINE introductory and refresher course in flow cytometry". Lessons covered all the basic principles and technical aspects of flow cytometry, and I can now perform basic analysis in complete autonomy. The course structure, the material as well as the availability of the teacher, are excellent!"

Luigi D'Antonio, PhD student, D'Annunzio University, Italy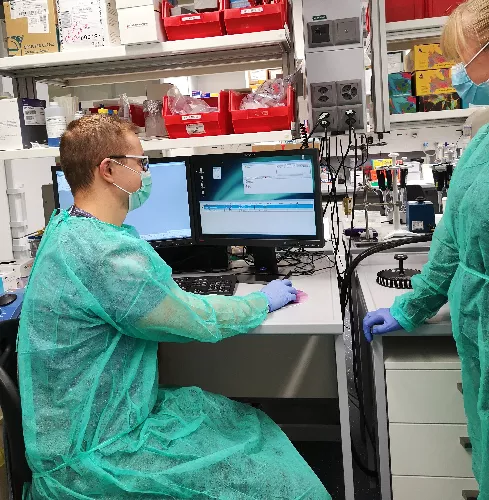 22 October 2020
"The training 'Introductory and refresher course in flow cytometry' was the best conducted course I have ever attended. Topics were presented in a right and logical order, so everyone could easily follow them. The teachers are experts in the field of flow cytometry and teach it with a real passion. It was a pleasure to meet them and see how they are working. I am really impressed with their knowledge and expertise!"

Izabela Szczuka, PhD, Research Assistant, Department of Medical Biochemistry, Wroclaw Medical University, Poland


19 October 2020
"Great teachers with a passion for teaching. I participated to the 'Introductory and refresher course in flow cytometry' in October 2020. The material was presented at a good pace and I got an answer to every question. The theory was combined with practical. I sincerely recommend this school."

Pawel Serek, PhD, Research Assistant, Department of Medical Biochemistry, Wroclaw Medical University, Poland
15 June 2020
"The online "MRD Training" course organized by Swiss Flow Cytometry School in May 2020 was one of the best courses I have ever attended. We started the course by reviewing the maturation steps of lymphoid and myeloid cells within the bone marrow and then focused on CLL, MM, and B-ALL, T-ALL cases. We learned how to analyze the cases in a systematic way and we had the opportunity to test ourselves by analyzing of demo cases and discussing them afterwards before proceeding to the next topic. Ms. Dufour was very experienced and willing to answer any questions directed. Thanks to the team for all of their efforts."

Klara Dalva, MD, Department of Hematology, Ankara University Medical School, Turkey
19 March 2020
"The course "Winter School of Cell Analysis in Immunolgy" was very comprehensive and rich in content. It was very interesting concerning both clinical practice and research experiments. I would like to congratulate professors and staff of the Swiss Flow Cytometry School for the initiative to promote so many amazing courses with flow cytometry and to share their knowledge with us."

Chandra Chiappin Cardoso, Biochemist and PhD student, Florianopolis, Brazil
11 February 2020
"The course 'Introductory and refresher course in flow cytometry' was intense and very well organized. From zero to be able to use flow cytometer and analyze data in one week! It is great! I would recommend it!"

Angelica Ferro, Pharmacist and PhD student, University of Geneva, Switzerland
4 July 2019
"I participated the course Leukemia diagnosis and MRD detection by Flow Cytometry. This course was excellently supervised by Nicolas Arraud. Nicolas educational skills are very good.
This course gives a deep insight into the problems and pitfalls of leukemia diagnostics and gives you a guide to correctly perform the diagnostics. The organization and preparation of the course was perfect."

Ripkens Susanne, Senior Analyst Field System Support, Germany
28 May 2019
"Attending the Advanced Flow Cytometry Course in Geneva, I experienced a very small learning group with a pleasant and stimulating learning atmosphere. Theoretical basis was accompanied and intensified by practical tasks and the small group size allowed Nicolas to address our individual needs, about which he obtained information in advance. Thank you!"

Mirja Piller, Scientist in Research Service in Hamburg, Germany
26 April 2019
"The Swiss Flow Cytometry course is teaching you all of the best practices for becoming a great flow cytometrist. Dr Nicolas Arraud thanks to his knowledge and creativity is the best teacher I have ever met! Thanks to his skills he shows how cool learning can be."

Olga Witkowska-Piłaszewicz, DVM, PhD candidate
10 March 2019
"The course on LEUKEMIA MRD was very comprehensive and we discussed about everything from the basics to more complicated applications. The combination of theoretical and practical sessions was very good and gave us the opportunity to learn the subjects from all the possible angles. The team was professional and willing to answer any questions and made us feel very comfortable. The course is highly recommended!"

Zohar Rotem, Academic clinical laboratory technician by Beilinson, Israel
4 March 2019
"Interesting course with a good balance between theory and practice. The small scale of the course, in combination with the international audience and the enthusiastic teachers made the interactions and discussions lively and informative. Worth the trip to Geneva!"

Dr Jan Emmerechts, Klinisch bioloog Laboratoriumgeneeskunde, Brugge, Belgium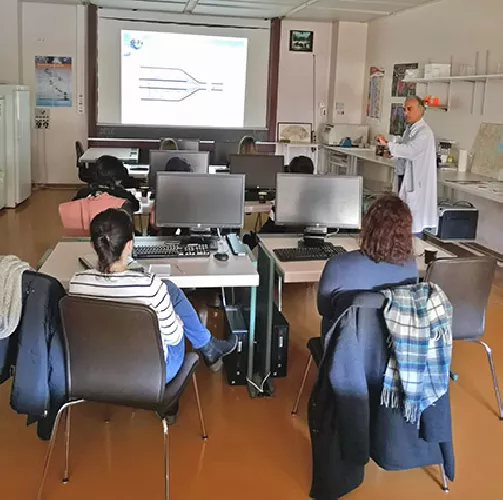 29 January 2019
"I've enrolled at the course without having any expectations, because I knew how many things there are to be learned, so those five days seemed to be very few; the first day I've been so impressed about what a good teacher can do with a beginner in the field of flow cytometry. My knowledge I this field was on a low basis and I've been struggling before to get a clear vision of this technique by reading articles, signing on webinars and watching videos about FC, but all of these did not help me too much, and I was still having problems understanding the principles and how to apply them to my research interest. Attending to "Introductory and refresher course in flow cytometry" was the best decision on a short and a long term. The teacher made the best of those five days, having clear lectures, easy to follow, work sessions and plenty of experience to explain every aspect of FC and a lot of patience to make everything clear to me. Without any fancy words, this was the most helpful course that I've been to. I hope to gain more knowledge and to come back for more advanced modules, and further to more dedicated applications.

I want to thank Swiss Flow Cytometry School's team for my time spent in their facilities in Geneva and hope to see them again soon!"

Irina Patras, PhD, Faculty of Veterinary Medicine, Romania
28 January 2019
"I had the chance to attend the introduction and refresher course from the Swiss flow cytometry school in January 2019. I would like to testimony that the course is of very high quality, the content was very comprehensive, clearly explained and accessible for neophyte. We were a small group which allowed very good interaction and the possibility to ask as many questions as we wished. The teacher was a very motivated person, patient, and had a profound knowledge of FACS. I totally recommend this course."

Cédric Cortijo, PhD, Scientist Bioanalytics, Zürich
26 September 2018
"First of all, I would like to thank you and thank the Swiss Flow Cytometry School for all what you did for me and for my daughter to make our trip is fully informative and enjoyable. And I hope to meet you again with another course.

Before this workshop, I tried to learn about MRD by searching on the internet and reading articles but it was difficult for me. I was not sure if this workshop would enhance my skills in this field. What encouraged me to sign up is the title I was expecting that this workshop will be about MRD test and how to use properly. What I really liked is that it was not only about the test but also about the basics in hematopoiesis, normal maturation, and the leukemias. It was really helpful to me in many ways. Learning about MRD was interesting to me. I was able to know their types and how can I differentiate between them and how it can affect the monitoring and follow up with the patients.

To sum up this workshop not only taught me how to apply the MRD correctly and how to use MRD test but it has helped me in many aspects and I become more confident with my machine. and I really liked the services that provided by Swiss Flow Cytometry School at Genève university and I wish that someday we will have the same school in universities in my country."

Fatima Al-Amoodi, Al-jeel medical company,Jeddah, Saudi Arabia
2 September 2018
"The introductory and refresher course really helped me build solid foundation in the field of flow citometry. All the aspects from sample preparation through to data analysis and interpretation were deeply covered. Dr. Arrauds' teachings and the possibility to have hands-on sessions easily led me to a more advanced level and allow me to understand how to troubleshoot with the Navios machine and Kaluza analysis software, making this experience one of the most valuable I have ever had during my career! Thank you SFCS for your precious tutoring and warm hospitality, I would definetely recommend this course for both unexperienced and but also more advanced flow users."

Giulia Piccini, Phd student in Life Sciences, University of Siena, Siena, Italy
23 May 2018
"Do the right thing at the first time, it is our goal when working in the medical laboratory. It is very valuable and meaningful to attend the 'Introductory and refresher course in flow cytometry' in Swiss flow cytometry school. In the lesson, I learnt how to obtain a good voltage setting and created a colour compensation. Teachers are welcome to answer questions during the course.
After completion of the course, I have an idea to have a correct voltage set up in front of the Navios flow cytometer. I am able to perform colour compensation by using the Kaluza analysis software.
I recommend anyone who are working in the flow cytometry area should enrol this course."

NG Wah Suet, Hong Kong Sanatorium & Hospital, Hong Kong, China
9 February 2018
"During the 'Introductory and refresher course in flow cytometry', I learned a lot about the practical set-up of a flow cytometer and how to use different software applications. This was very useful to understand the basic principles and the pitfalls regarding the interpretation of flow cytometry data. The more advanced course on 'Leukemia diagnosis and MRD detection' offered a thorough overview of interpretation of immunophenotyping for leukemia and guides you in MRD detection during theoretical lessons and practical sessions. I would advise these courses to anyone who wants to learn more about flow cytometry!"

Dr. Helena Claerhout, Trainee in Laboratory Medicine, University Hospitals Leuven, Leuven, Belgium
8 February 2018
"Attending the acute leukemia diagnosis and MRD detection course in the Swiss Flow Cytometry School was really valuable and impressive experience. Targeting the whole practical spectrum from sample preparation, machine adjustment, results interpretation, software analysis and final reporting g was done in a very professional transitions and accompanied by rich and updated theoretical background, my appreciation goes for the great team who were so generous in giving the best of their experience and also for their great hospitality."

Dr Dalia Gamil. Ass. Professor of Clinical and Chemical Pathology Kasr Al Aini school of Medicine Cairo University.
20 January 2018
"I found the course is very useful to me as a beginner. The first week of the course let me having a general principle of flow cytometry and learned the basic set up on flow cytometer. It helps me to establish a good foundation and leading me to learn the advanced course more easily. Although the advanced course on second week is quite difficult to me as I am not familiar with the cell markers, it helps me to understand the applications of flow cytometry on diagnostic of haematological malignancies and also the minimal residue disease monitoring. The course did not only conduct theory on the various haematological malignancies and more importantly it allows us to have hands on practice at each day on data analysis by using Kaluza software. The course is in small group learning base which allows me to catch up the course content more easily."

Sai Chung YIP, Queen Elizabeth Hospital, Kowloon, Hong Kong.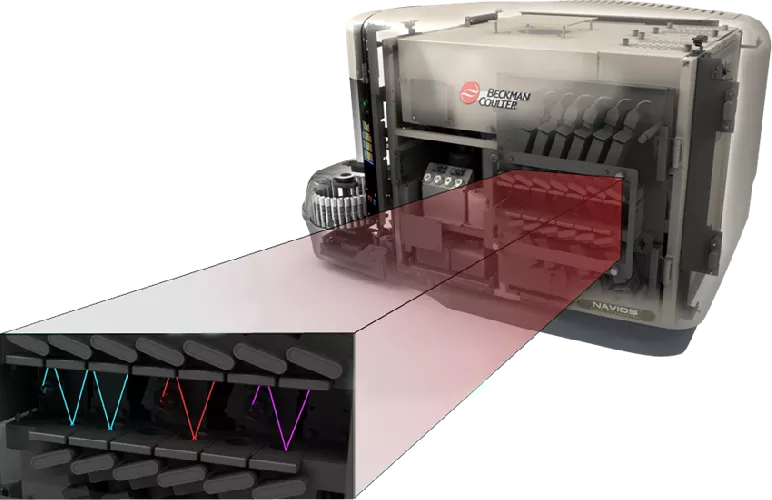 15 December 2017
"In an international and very friendly atmosphere I have learned a lot about flow cytometry thanks to the Swiss School of Cytometry. I'm pretty sure that those learnings are going to help me in my future carreer. I highly recommend those formations for any trainee in laboratory medecine."

Dr. Henry Paridaens, Trainee in Laboratory Medecine, Université Catholique de Louvain, Brussel, Belgium.
28 November 2017
"I attended « Leukemia diagnosis and MRD Detection by flow cytometry course » in November 2017. This course helped me a lot in understanding my work and see different way of analysis other than the one I'm used to and strengthen my basic knowledge. Dr. Nicolas was so helpful and patient with me because I wasn't used to work with Kaluza software we use diva back in my work place. Also we worked with Pr. Thomas on Ifinicyt software : it was an amazing session and opened my eyes to very prose new concepts. I really advice any one starting her or his career in flow cytometry to attend a course in Swiss flow cytometry school ..."

Alsubaie Wadha, medical technologist, King Abdulaziz medical city, Saudi Arabia.