Blog
The last posted articles ...
The Swiss Flow Cytometry School goes to Cameroon!
2017-10-30
From October 25th to 27th, Prof Thomas Matthes and Dr. Nicolas Arraud together with Drs Claude Lambert (St Etienne, France) and Fouad Seghrouchni (Rabat,Morocco) attended a scientific meeting at the Centre International de Référence Chantal Biya (CIRCB) in Yaoundé, Cameroon.

This meeting gathered hematologists and lab specialists from all over the country with the goal of improving leukemia and lymphoma diagnostics in Cameroon, as well as the diagnostics if primary immunodeficiencies. A hands-on workshop on cytometry was part of the meeting.

We hope this is the beginning of a fruitful collaboration!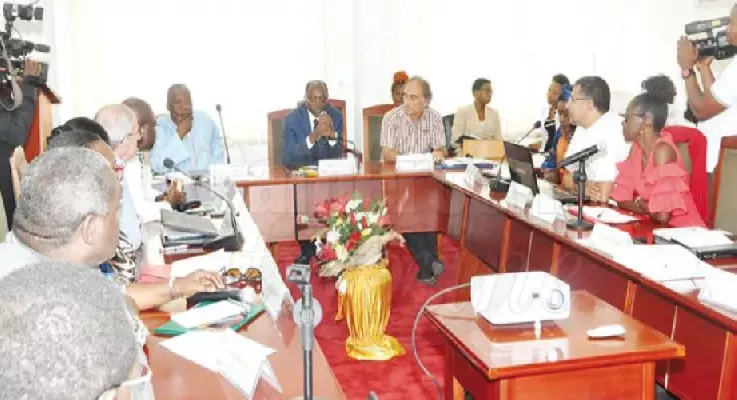 Sysmex Cube 8 hosted at the Swiss Flow Cytometry School
2017-07-14
The company SYSMEX kindly lends us a CyFlow Cube 8 for testing/teaching.

This small machine (50x47x37 cm) is a fully integrated 2 laser (488 & 638 nm) and 6 colors flow cytometer. The Cube 8 offers some interesting features like the True Volumetric Absolute Counting (TVAC), which allows the user to determine an absolute cell concentration without the use of counting beads, and is fitted with the new CyFlow software that is compliant with data from other flow cytometers.

To test TVAC, Sysmex also lends us a Nucleocounter NC200 cell counter for comparative analysis.
Nicolas is looking forward to test it!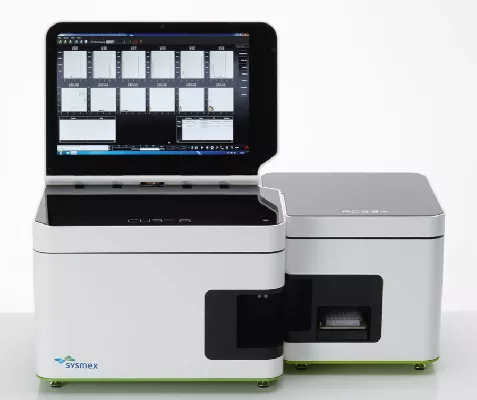 Multiparametric flow cytometry data analysis with R.
2017-06-28
With machines offering more and more colors for running experiments, the next big challenge of our school is to develope tools to deal with such complex data. Fortunately, other techniques like mass cytometry (CyTOF, Fluidigm, CA, USA) faced the very same problem and developed interesting tools requiring the R environment (e.g: this figure extracted from Bendall et.al. Science 2011). We are now aiming at acquiring such tools and translating them into efficient and user friendly tools for clinical flow cytometry. Perhaps a new course coming soon?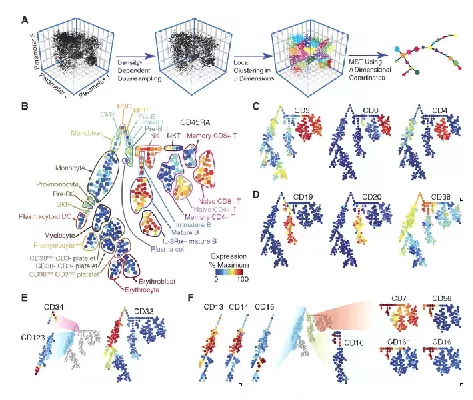 The Swiss Flow Cytometry School hosts a Cytoflex S.
2017-06-16
The Cytoflex S is the latest research machine released by Beckman Coulter. The machine is equipped with 4 lasers (405, 488, 561 & 638 nm) and can deal with up to 13 different colors for a roughly 50 x 50 cm footprint. The addition of the 561 yellow green laser really boosts PE and PE tandems signal.

The machine's optical system is really impressive with avalanche photodiodes (APD) instead of PMT's. The Cytoflex performs as good or even better than the Navios/Gallios machines. Nicolas also liked the ability to measure SSC on the violet laser to improve detection of smaller objects. No doubts this machine will become a hit.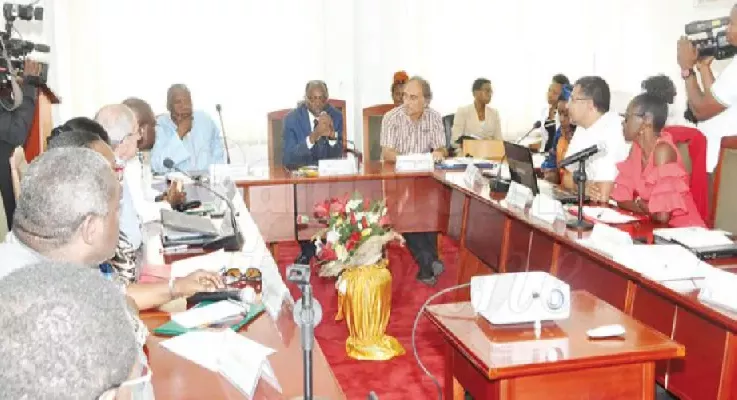 The Novocyte from Acea is a machine full of good surprises
2017-06-01
Nicolas admits that he was a bit skeptical when he read about the Novocyte: " A machine with fixed voltages, how can a single voltage fit all my applications?" Then he tried it and realized it worked! The machine is certainly the most user friendly flow cytometer he tested.

Press the power button and the machine will automatically do the time consuming start up and shut down procedure. The sample loader can accommodate various tube sizes even eppendorfs thanks to pressure sensors on the needle. You can prepare a list of tubes to run and the machine can warn you that the sheath is going to be insufficient thanks to scales monitoring the fluid levels.

With a 3 lasers (405,488 & 638 nm), 13 colors capability and the ability to measure the sample acquired thank to its syringe injection, the machine can fit all needs.

Image from Acea website (https://www.aceabio.com/products/novocyte/).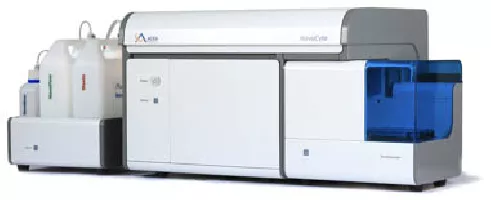 The Swiss Flow Cytometry Virtual Lab Network is launched
2017-01-15
With the support of Alexion pharma (http://www.alexion.com/), the Swiss Flow Cytometry School launched a pilot project about web-based education of cytometry for the participants of our courses.

Our goal is to share anonymous data from real patients addressed to the Geneva University Hospital Flow Cytometry lab and to compare the results with results from the same files analyzed by participants from many countries (Iran, Israel, UAE, Oman; Quatar, Kuwait, Tunisia, Russia, Finland & Greece).

Participant's results are anonymously compared to one another and to results obtained in our school. The idea is to identify differences or simply errors in gating strategies, calculation methods, reporting, etc… Participants will then receive a global analysis and a personal one with individual comments or suggestions for improvements.

The program plans to send files from 2-3 patients every 3 months allowing 1 month for the participants to submit their answers. Participant's answers are then processed and a conclusion sent out within 1 month.

No doubt, this will be an interesting experience!
Research
Recent articles
Archives